Lighter, Stronger and Bigger Than Ever
Arconic helps builds the future of aviation with advanced aluminum-lithium
Aircraft manufacturers are increasingly turning to lighter and stronger aluminum-lithium alloys, which are less expensive than other materials and enable better fuel efficiency and lower maintenance costs.
Arconic is keeping pace with demand through a recent investment in Lafayette, Indiana, where we've opened the world's largest aluminum-lithium plant. Our materials scientists invented a majority of the alloys produced at the facility as well as the casting equipment and processing technology.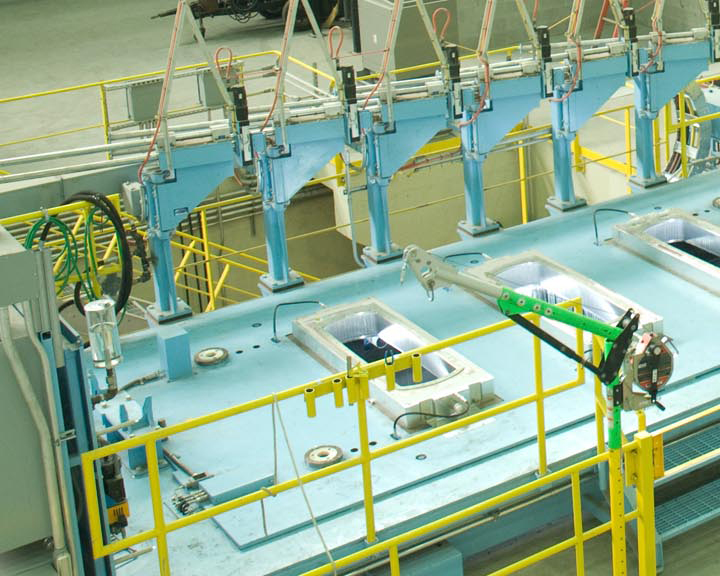 Arconic's Lafayette cast house, located next to its extrusion plant, can produce more than 20,000 metric tons (44 million pounds) of aluminum-lithium annually.
We offer the most complete portfolio of aluminum-lithium products, including extruded, forged and rolled parts. And we are a market leader in aluminum-lithium extrusions, with a significant position on the Airbus A380, Airbus A350 and Gulfstream G650. Arconic produces single-piece wing skins, including for wide-body aircraft, fuselage skins, wing stringers, floor beams, seat tracks and other components.
Our Lafayette facility is uniquely capable of making the world's largest aluminum-lithium ingots—approximately 50 percent larger than the nearest competitor, and big enough to make any single-piece component on today's aircraft. Complementing that capability, Arconic operates the world's widest, 220" rolling mill at its facility in Davenport, Iowa, making us the only company capable of producing single-piece aluminum-lithium wing skins for the largest commercial aircraft. Single-piece parts make structures stronger, lighter and less expensive because they minimize the number of complex joints.
Lithium is the world's lightest metallic element. When alloyed with aluminum and other metals, the material provides an outstanding combination of strength, toughness, stiffness, corrosion resistance, and high-temperature performance, and at a lower cost than other materials.
As a result, Arconic's aluminum-lithium materials:
lower the weight of single-aisle fuselage applications by up to 10 percent versus composites;
lower the cost to manufacture, operate and maintain planes by up to 30 percent versus composite-intensive airplanes, and at significantly lower production risk;
contribute to 20 percent better fuel efficiency; and
deliver passenger comfort features equivalent to composite-intensive planes, such as higher cabin pressure, large windows and higher humidity.